I guess Grant has a heart. He decided to wake up early on Thanksgiving day to make food for the homeless of LA.  We were all touched by his proactive kindness that we volunteered to help out.  The smell of burritos, turkey paninis, mashed potatoes, corn bread, tacos, and pasta filled his kitchen — it felt like family. In total we made about 30 burritos and 30 plates. Come noon, our first stop was Pasadena but we only saw about 5 homeless people so we decided to man up and head to skid row in downtown. JACKPOT! They seemed happy and thankful which made waking up early and getting lemon juice in my hangnail totally worth it. See y'all next year.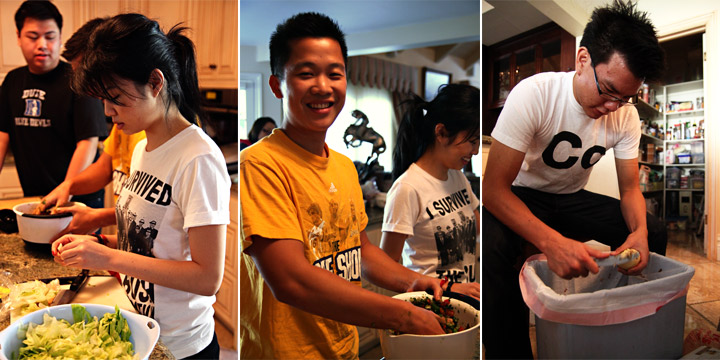 everyone hard at work
don't be stingy with the meat!!!
my jersey is cool
Grant crossed out his last name…wuss.
final product! turkey panini, corn bread, burrito, mashed potatoes, and a capri sun to top it off
30+ burritos. we don't mess around.
this could have been a disaster…